Dortmund – The Case for Investment

Background and Impression
Its the spring of 2014 and Germany is thriving, even booming in certain areas, and Dortmund is a prime example of this. Stepping off the train into Germany's second busiest train station, you feel immediately the buzz and energy of the place. Young people and immigrants of all nations are highly represented, with 38% of the cities population being classed as "non German". Clearly the city is enjoying the latest wave of immigration to Germany as much as anywhere, and the vitality and diversity that this brings.
The city will placed in the the Ruhr industrial area, part of Germany that drives the legendary export machine and is home to around 18 million people. The city itself numbers just under 600,000 inhabitants, making it the biggest in the region and 8th biggest in Germany. Typical employment being Industry which the city has its roots in but also a dynamic and growing technology and services sector.
Across a range of key indices the city measures 59th in the table of the biggest 75 cities in Germany. It below mid-table performance can be laid at the feet of the decline in some of the old "heavy industry" which characterised the city, along with coal mining. But the city's fortunes are turning with the increased focus driven from the city and university on high tech and services, and the economy is picking up
Population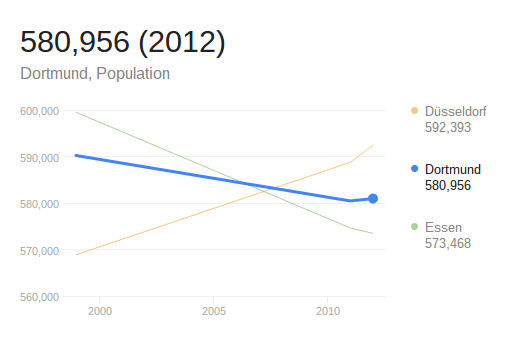 Dortmund's population grew rapidly in times of 19th century industrialisation when coal mining and steel processing started. For the first time in 1904 more than 100,000 people lived in Dortmund. Not taking war years into account population figures had constantly risen to 657,804 in 1965. Subsequently, population figures have fallen to approximately 580,000 in 2011. But actually projections population figures have been slightly rising in the previous years which is due to net migration gains. Younger people (18 to 25-year old) in particular come to settle in Dortmund mainly because of its universities or other education-related activities. As of 2012, Dortmund had a population of 571.403 of whom about 177.000 (~30%) were of non-German origin.
Unemployment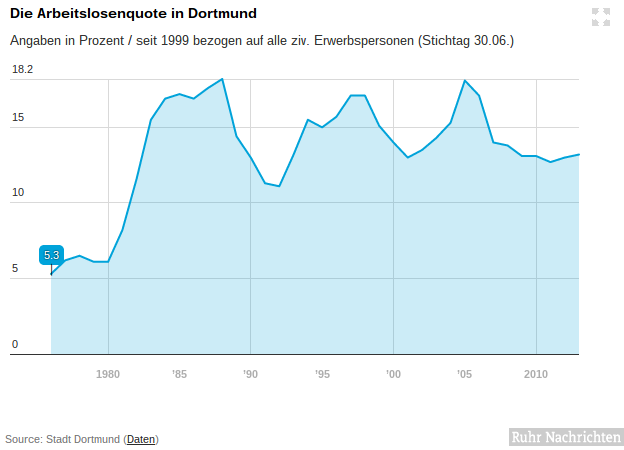 Unemployment in the city is still higher than the average across the country, however levels are back now to around 1990 levels at the time of re-unification. From these stats, it can be expected to have a degree of social tenants in a property as a norm, although to the south of the centre less so.

The Pheonix Lake
For 160 years, the suburb of Horde was home to one of the world's biggest iron foundries. Planned redevelopment of this area has been ambitious to say the least and now in the foundry place lies a beautiful lakeland which is being developed as we speak.

Still under construction, the 24 acre lakeland will eventually be home to 1,300 new residential and commercial units who will be housed in what is becoming the city's real place to be.
Example Property
Centre North
Just 5 mins walk from the main train station is the busy and densely-populated area of centre north. A mixture of old period property from the 1800s lies next to more modern 1950s and onwards stock, with small park areas dotted around to give a pleasant feel to the district. Of all the city, here lies the best opportunity to acquire the highest yields for property that can be in a very good state of renovation. Whilst yields have compressed over the last few years in Germany, it is somewhat astounding to find some very good quality properties in this area, still delivering 10% yield. With finance rates so low for 5 and 10 year fix mortgages starting below 3%, the case to look to this area is truly compelling.
An example is this beautiful recently renovated period property a mere 600m from the main train station. There are 10 units in the building, all rented out to good tenants, and the apartment block brings in 35,400 Eur per year. It is priced at a fixed price direct from the owner at 349,000 Eur, giving just over a 10% return from day one.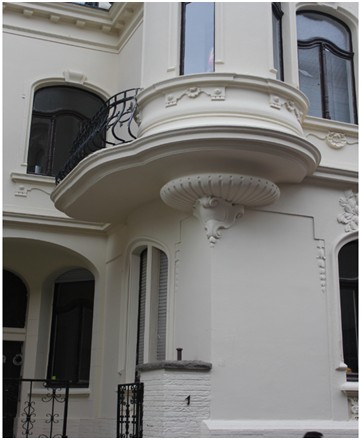 Or for investors with a slightly smaller budget, the investment case for the below block is equally strong.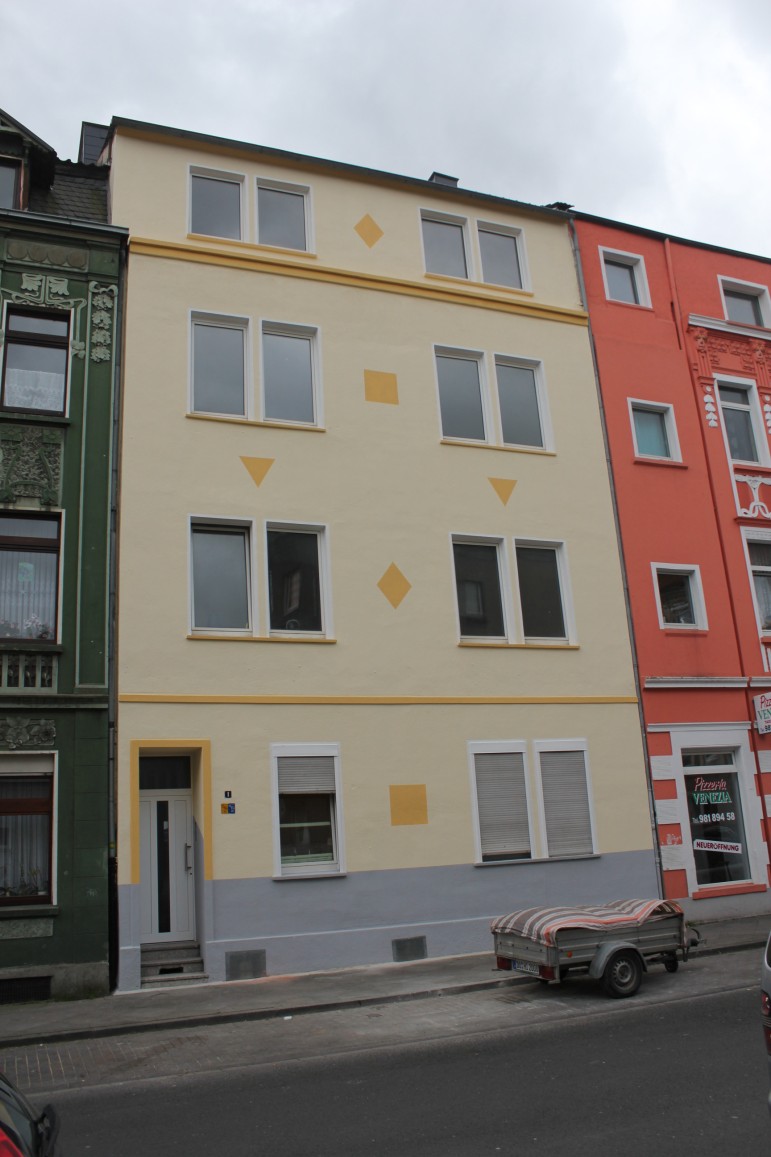 This lovely little apartment house from the 1950s has 4 apartments, which have all just been renovated throughout. The staircase and communal aspects are 1st class, the central heating system, all bathrooms and electrics are new. The property feels brand new. Priced at 179,000 Eur and delivering a 10% yield also, it is difficult to think as to where in Europe such value exists, backed by great finance at low rates and a very favourable local economic prospect.
Dortmund Horde
Near the Pheonix Lake project, this suburb is performing very well and prices are increasing and property stock does not last long on the market. Yields, as you would expect are a little lower but as this example shows, they are still robust:
http://www.immobilienscout24.de/expose/66087824
Built in the late 1940s, the property is of traditional style and has 1 commercial unit on the ground floor with 6 apartments above plus 6 parking spaces. The property is priced at 447,000 Eur, and with an annual rental income of 40,000 Eur then the return is still a healthy 8.95%.
Market Predictions
– Rental Demand
The graph below shows the steady increase for rental rates in the city for all apartment sizes.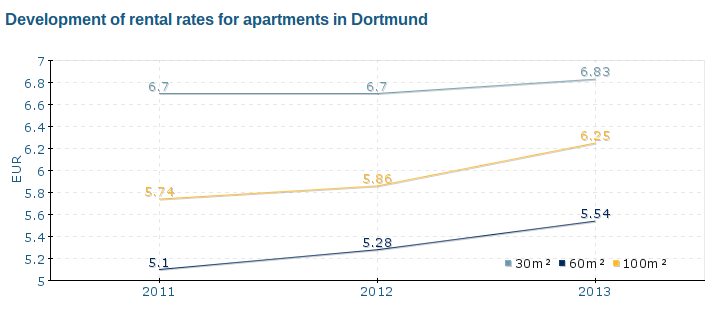 The continuation of this increase is likely for a number of reasons. Firstly, Dortmund rent levels are still very affordable as seen against other cities in Germany and show capacity for growth. Additionally, the recent pick up in population and the economy give rise to increase wealth and alos demand for good housing. Care should be taken, like in every city, to ensure that a suburb you are looking in has good demand and the type of tenant background fits to your strategy as an investor.
– Rental Levels
The graph shows a fairly even spread of rent levels across the city, with a trend of higher rents lying to the south.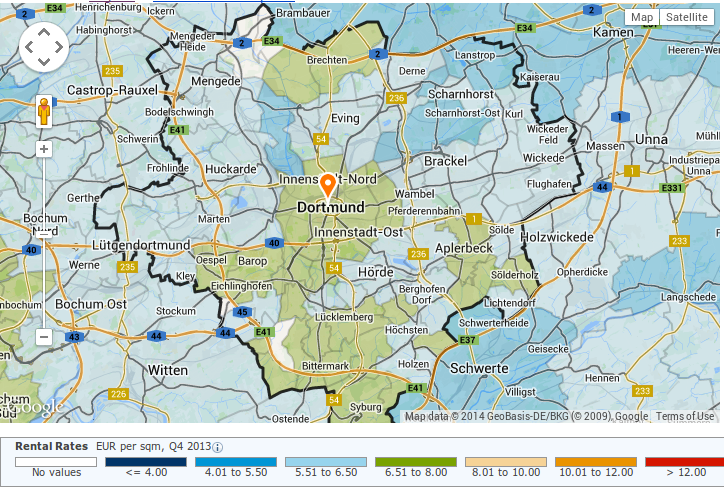 Capital Values
Looking at housing prices in Germany as a whole, the last 5 years or so have been very good for the country. From the graph below, the country has seen on average around a 15% pick up over this time period.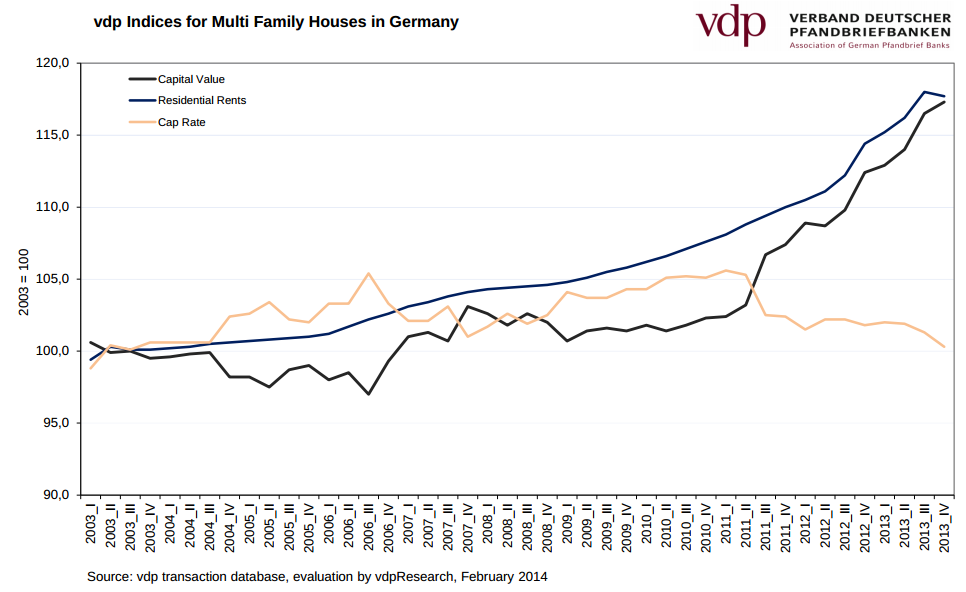 Looking more closely to the Dortmund market, the graph below gives the purchase price per sqm for single apartments. It can be seen for this sector of the market, that the prices did nothing from 2001-2011. It has only been since 2012 that prices have started to pick up, and they have rocketed up some 27% since then, making it one of the fastest areas of growth in Germany now.
Multifamily housing prices tend to follow the trend set by single apartments, and it can be expected to see good growth in this sector now.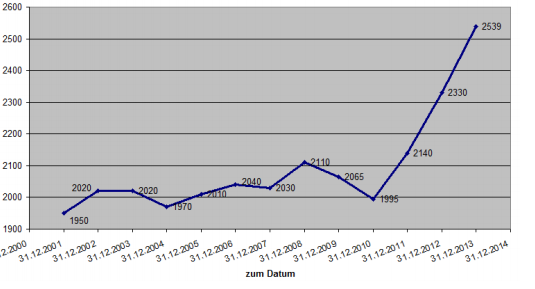 Conclusion
Despite being Germany's 8th biggest city and home to much of the industrial might of the country, Dortmund has remained somewhat under the investment radar for some years now. Perhaps larger scale investors have been busying themselves in the "big 6" cities or speculating more on the big cities in the East which are recovering after reunification still. Perhaps local investors have dismissed what is on their doorstep, due to the stories of closing down of the foundries and coal mines in the area, and the consequent shift of employment.
But as an investor new to the area, you will not fail to be impressed by the regeneration which is going on in this transport hub city of Germany and the increase in confidence which is palpable. If you are like us, you will be left with the conclusion that 10% yields in a city of this size and potential seems mis-priced and it is a very good time to explore the market here for well-targeted acquisitions.